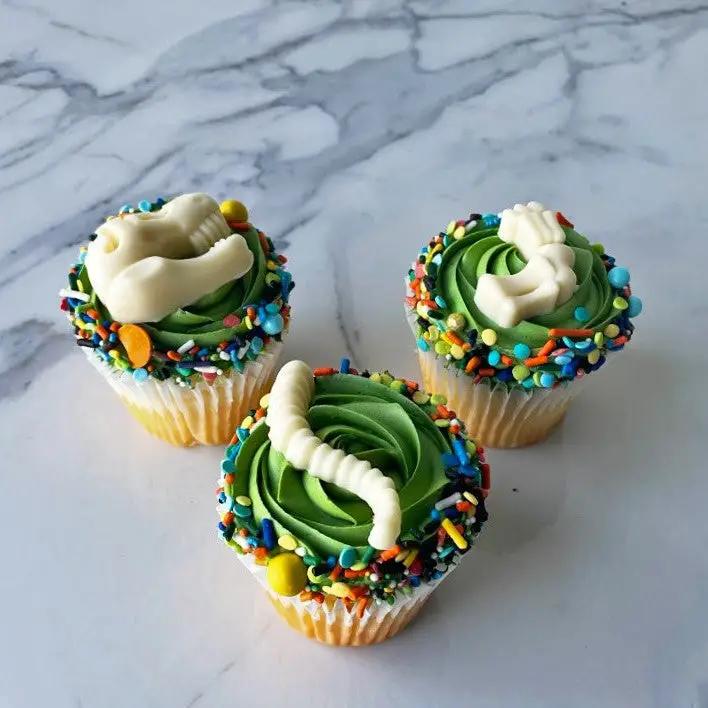 Dinosaur Cupcakes (per dozen)
Dino-mite Deliciousness: Introducing the Most Roaringly Good Cupcakes Ever!
Do you love a sweet treat that's also a little bit wild? Then say hello to our Dinosaur Cupcakes! 
Here's why you'll want to sink your teeth into our Dinosaur Cupcakes:
Prehistoric Perfection: We've baked these cupcakes to absolute perfection, with a soft and fluffy texture, and a rich, indulgent flavor that'll make you want to roar with joy!

3 Flavors to Choose From: Whether you're a fan of indulgent chocolate, smooth vanilla, or playful pink champagne, there's a dino-mite treat for everyone!

Perfect for Celebrations: Whether it's a birthday party, a special occasion, or just a sweet treat after dinner, our Dinosaur Cupcakes are the perfect way to celebrate in style.

Made with Love: We use only the freshest, highest-quality ingredients in our cupcakes, so you can be sure you're getting the very best.
So if you're ready to treat yourself to some prehistoric deliciousness, order your Dinosaur Cupcakes today! 
*To accommodate more servings or flavor options, please call us at 253.627.4773 to place a custom order.