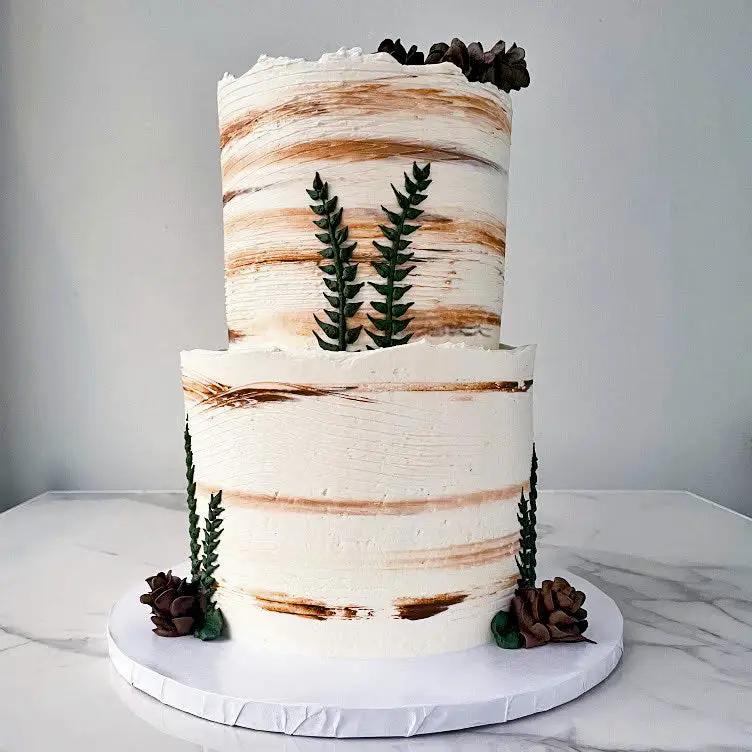 Evergreen Forest Wedding Cake
Cake Type:
Pink Champagne Swirl with White Chocolate Mousse
Evergreen Forest Wedding Cake - the perfect centerpiece for your special day!
This stunningly beautiful cake is the perfect addition to any forest-themed wedding. With five delicious flavor options - Pink Champagne Swirl with White Chocolate Mousse, Marble with Eclair Filling, Red Velvet with Cream Cheese, Pink Champagne with Bavarian Cream, and Vanilla with Lemon Mousse - there's something to please every palate.
The evergreen forest design is perfect for nature-inspired weddings
Made with the freshest ingredients for a taste that's sure to please
Available in five delectable flavors, so everyone can find their favorite
Can be customized to fit your wedding theme and color scheme.
So, whether you're looking to make a statement at your special day or simply want to indulge in a sweet treat, the Evergreen Forest Wedding Cake is sure to hit the spot. Perfect for anyone who loves sweets, nature and celebrations, this cake is sure to be a hit. Order yours today!
This cake is made to order so be sure to allow three business days' notice for your cake to be baked and decorated!
To accommodate more servings or customization, please call us at 253.627.4773 for a custom order.